May 13, 2020
As we have been allowing a little more screen time into our homeschool, my family and I have been enjoying a couple of educational videos from Compass Classroom, and I wanted to share about two of them here: one that I purchased and one that I was given for review. First is "Word Up: The Vocab Show."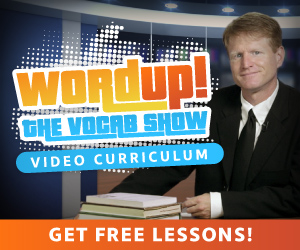 I purchased this DVD during a recent sale and we have only one complaint: there is no Volume 2! My children are ages 5, 11, and 13, and they ALL ask for episodes of this show, which we have made a part of our homeschool morning time. Dwayne Thomas is the host, and he teaches about Latin and Greek roots and words derived from them, but does so in a super entertaining way. I highly recommend this DVD! You can get two free lessons here to see if your kids enjoy it as much as mine.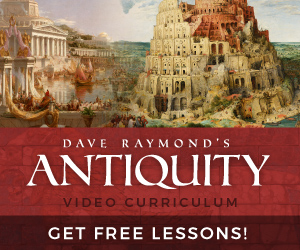 Next, my husband and I have been watching Dave Raymond's "Antiquity" history class via the streaming option. My oldest daughter is a rising 8th grader, and we are previewing this series for her in order to figure out where to fit it into her high school curriculum. Side note: one of the nice things about Compass Classroom is that they provide all the information you need for reporting course credits for high school students, and each of the volumes in Dave Raymond's History series qualifies as a high school history credit when parents follow the assignments as given. We have already watched the "Modernity" series and I have a review of that here.
There are so many things I like about Dave Raymond's history classes, including the fact that he teaches from a Biblical worldview and brings a traditional Christian viewpoint into how he describes cultures and events. Another benefit of these classes is the beauty that video adds above and beyond still photographs. Students really get to experience the places being talked about, and they can see the art and artifacts as they're being discussed. It's a engaging way for older students to learn. I recommend this series for high school students and above, or possibly very mature middle school students.
Although DVD copies of Antiquity won't ship until June, the series is already available to stream here. You can also check out a couple of free episodes to see if you like it as much as we did!
Thanks to Compass Classroom for allowing us to review Antiquity. (And please start production on Season 2 of Word Up!)
Disclosure of Material Connection: I received the streaming lessons of Antiquity free from the publisher for review purposes. I was not required to write a positive review. The opinions I have expressed are my own. I am disclosing this in accordance with the Federal Trade Commission's 16 CFR, Part 255: "Guides Concerning the Use of Endorsements and Testimonials in Advertising." This site is a Compass Classroom affiliate, and purchases made through links (including linked covers) may result in my receiving a small commission (at no additional cost to you).
Entry filed under: Education, Homeschooling, Reviews. Tags: .